Now Offering Exede High-Speed Satellite Internet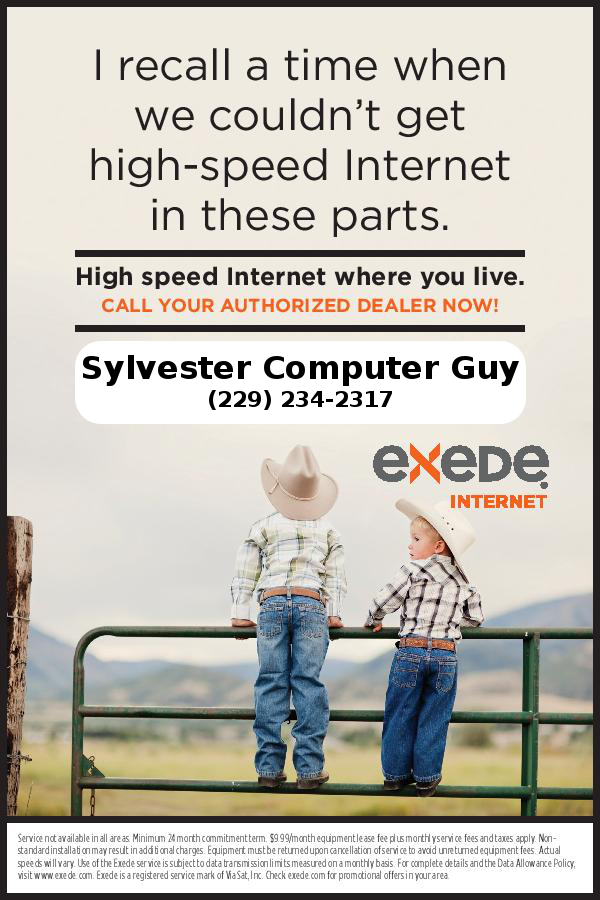 Technology from the Edge of Space Transforming U.S. Agriculture
Satellite Internet among advances that enhance farming and rural lifestyle
Tough, unpredictable, dawn-to-dusk work — this has defined the American farmer's life for decades, and it's not likely to change any time soon. What has changed – and changed dramatically – are the agricultural tools and technology. With this technology, many farmers are able to produce better yields with less waste, leading to improved profitability.
Interestingly enough, what's driving improvements in the farm fields is technology from the edge of space. Satellite technology, specifically GPS applications, are responsible for the growth in precision farming, which is being used for everything from planning and field mapping to tractor auto-steering and planting to post-harvest analysis.
Satellite technology is also responsible for significant improvements in broadband communication on farms and in rural communities across the U.S. Historically, these areas have had limited service options, often relying on dial-up Internet, which establishes a connection through telephone lines. Early innovators in satellite Internet, such as WildBlue, recognized the potential for rural areas and began to offer the early generations of the service, which was 30 times faster than dial up – sufficient in 2005 but slow by today's standards.
ViaSat, a company that had successfully developed satellite and digital communications for government and commercial markets, recognized the value in bringing high-speed Internet to underserved communities. In 2009, the company acquired WildBlue and began preparing for the launch of the world's most powerful communications satellite, ViaSat-1.
Following the successful launch of ViaSat-1 in late 2011, ViaSat introduced Exede high-speed Internet in early 2012. This new service offers breakthrough reach and speed, covering 80 percent of the U.S. population and virtually all areas east of the Mississippi River. Exede Internet provides download speeds of up to 12 Mbps – eight times faster than the original WildBlue service and at least twice as fast as typical DSL service in many areas.
For farmers, ranchers and the agri-business community, Exede Internet has been a game changer, providing real-time access to email as well as web pages that can provide weather, market and commodities information, crop production information and general agricultural news.
This high-speed connectivity is also critical for succession planning. According to the U.S. Department of Agriculture, family farms account for about 98 percent of all farms in the U.S. Many point out that farmers' children are more likely to consider staying on – or returning to the farm – if technology is integrated into all aspects of their business and personal life.
There's also little doubt that the availability of high-speed Internet is central to prosperous rural communities. Younger families who want to get away from the urban fray as well as a growing number of retirees who prefer to relocate to quieter, picturesque rural areas all want access to high-speed internet.
Whatever the motivation for living a rural lifestyle, many will benefit from continued advances in satellite technology. If the past 10 years are any indication, the pace of change will only accelerate. ViaSat is already planning the launch of a new satellite in 2016, which is expected to provide higher levels of coverage and capacity, which translates to more bandwidth. And that will mean more productive farms and businesses, more connected families and more prosperous rural communities.